Easter Jeep Safari Pilgrimage
MOAB, UT April 14, 2001
We decided Phoebe was finally up to a real road trip...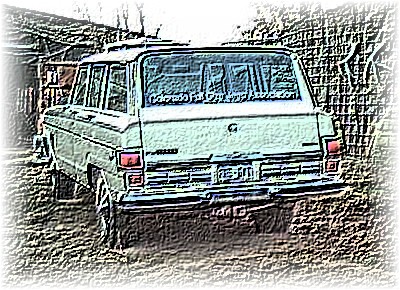 Prelude:
Mike and Judy, from the local 4 Corners Canyon Club (http://canyon-climbers.tripod.com), mentioned some weeks ago that we should all go up to Moab on Saturday before Easter to take in the day and view the happenings. We have spent some time recently getting Phoebe ready to make a daily driver. We got the tranny mount positioned and secured, new muffler and tail pipe tip, four used matching 30x9.50 highway tires, borrowed a good spare from Krista's dad and a few other minor odds and ends lined out. Friday, I took her downtown to the car wash with some tire cleaner, window cleaner and soft scrub. Yeah, soft scrub works great for tired white paint. With a bunch of elbow grease and about 4 hours of work, she was shining and spotless. The last rinse was with polycoat and she looked awesome for the drive!
Trip:
Met up with Mike and Judy and their daughter and boyfriend from Tucson at 5:30 am. Judy has an 81 Cherokee Laredo WT that they picked up last fall in Durango for $300. It is tan and in pretty clean shape now that they have cleaned it up and put a 4" Superlift with 33's on it.
Their daughter's bo has a late model TJ. We all topped off our tanks and headed north. The weather was clear and the sunrise was spectacular for the ride. We arrived in Moab about 7:40. On the way into town, there was a beautiful dark green w/white top narrow track, mid 70's Cherokee. It was for sale and we had to resist temptation to look. The rigs were already lining up to head out for designated trails. We had breakfast at the Moab Diner. Excellent food stop. After eating we walked out to the main drag and watched all the trail rigs make the parade type exit out of town. Let me say, having never seen this big of an event, I was in sensory overload looking (gawking) at all the rigs. There was a little bit of everything and a lot of CJ's, YJ's TJs and XJ's. I have never seen so many Scramblers, CJ6's and Commandos in one small area. The condition of rigs went from very rough (but mostly trail ready) to pristine rigs, and from stock to heavily modified for trail riding. We saw a late model J truck (smooth top cab) that had been bobbed off to be about 18 or more inches shorter that stock in the parade. There was also a brief glimpse of a 79/83 Wagoneer that appeared to be very ready for trail use.
Next stop was Potato Salad Hill. This is a rock pile that folks with big cahones drag their rigs up. It is loose at the bottom then gets into rough hard surface with a few rocks. There was a light crowd here and we got a good seat to watch the challengers. Two Samurai's showed the most by using very low gears to crawl up. One of the local club member with an older home made Bronco attempted the climb but soon had difficulties keeping the tcase in low range and had to abort. A newer OJ Bronco with a younger fella (probably his dad's truck) attempted several times to break something, catching air with the front end a couple times. Finally, he tweaked his rear bumper and apparently had enough. Without lockers, this hill is almost impossible. A nice camo Blazer K5 had no problems getting over and ended up later snatching a YJ up the last few feet when the driver lost his nerve. There wasn't enough carnage going on here, so we moved on.
The crowd at Lion's Back and Dump Bump was much bigger. There are a variety of smooth rock surface ridges here. In three places along one ridge, challengers take their rigs up and over to the Lion's Back trail. This is where we got a better look at the Wagoneer we saw in town. It was seriously modified with D60 rear and 4 point link setup in the front. The most peculiar part of the mods I noticed was the wide track front and rear fenders. Krista and I got a chance to talk to the owner and found out he had modified them for the back from a J truck. The truck was bent up in a few place and looked the part for this kind of riding. He also had a 401 in it. Very capable indeed. We asked if he was a member of the CFSJA, but no. He was gone before I remembered I had a couple cards with me. The most difficult crossing in the ridge is Dump Bump. The short wheel base rigs have trouble making it over this one because it is almost straight up about 10 feet. Many catch air bouncing the front end with too much throttle. We were quite amused at viewing this part of the activities. The crowds were kind of amusing too. Finally, a short wheel base late 60' Chevy truck got a good grip and got over. Not only did he get over, but he bounced and steered left enough that he seemed to have no choice but to run spectators off a part of the ridge that was about 6 feet higher on the left. People scattered and the truck went on through. Some belongings were run over as everyone was in a big hurry to vacate. Before long, a Power Stroke F350 Super Duty, crew cab, long bed pulls up. You could hear people mumbling "he won't get over". I even thought he was nuts. That thing had just enough lift and grip to climb over without hardly spinning a tire. It blew us away! Big ole, shiney black Darth Vader machine, it was. One of the last debacles we watched was some younger fella in a stock, extended cab Dakota. I thought he was going to tear the plastic piece under the front bumper off. He went at it several times and finally stopped to hand someone his camera for a shot at his highest point. It was a hoot.
The crowds were thick by this time and a cool drink and lunch was in order. We got back to the 3 Jeeps to find Phoebe had a flat and was blocked in. ~~Hmmmmph~~ While we were changing the tire, another driver of a rig further back came to have a sandwich and backed their truck out of the way enough for us all to get out. On the way back into town, we dropped the tire off to get fixed and went to lunch. Krista and I picked up the tire and met everyone else at the Rock Store afterwards. this was a cool place to walk around. Everything from dinosaur bones to fossil shells to, you name it. Then off to matrimonial springs for a sip of super fine natural filtered water coming out of some rocks. We crossed the Colorado River and headed over by Arches Nat'l Park. There are some cool petrogliphs about 20 feet up on the cliffs that face the north side of the river. It was photo op time. While here a nice white and silver Wagoneer and pretty clean mid 70's J10 came by.
The scenery all around Moab is breath taking to me. I have not seen colors and formations like this since I was a little kid. We cruised around a bit more and headed back in town for some window shopping. The guys usually stayed out by the street and watch rigs go by. Two WT Cherokee Chiefs cruised by a couple times. They both had nice lift and tires on them. One was metallic brown and the other was orange. Once we got through this part of the day, Krista and I were whipped. Mike and them decided to have dinner and we decided to head home. We filled up on the way out of town and discovered that we had averaged 16 mph over 160 miles. We were psyched about this! We enjoyed watching the sun set as wet headed back south to Cortez. It was the close to a beautiful day, a good running FSJ and a mini honeymoon. ~Flint Boardman~