Recon Mission - Ouray 2000
September 2 - Imogene Pass
First of all, I would like to say it was a great pleasure to meet and spend time those of you who made it to the 2000 Ouray recon mission. Krista and I had a great time with ~all y'all~. (that is plural y'all in case you haven't been in the South much)

We had some things to do to Luna before we left Cortez. Thursday, she got a new battery, wipers and hangers on the tailpipes along with tightening up a few lose screws. We were all loaded and in town getting fuel and groceries by 1300 on Friday. The drive up was nice and Luna pulled the hills on the highway with ease. We were setting up camp at 1630 and wondered where the other Amphitheater campers were. After walking around some and getting an awesome view of Ouray from the campground, we headed back up to camp. As we were walking up the road we heard a familiar rumbling sound that could only come from an AMC V8. Could it be an FSJ? It wasn't long before Jason and his family rolled by on their way in from the day out on the trails. We turned around and walked over to their camp. I was impressed with the stance Jason's 78 Waggy has with the J20 running gear and lift. It sounded like they had a good day out and even experienced some snow flurries at one point on the Engineer trail. We had a short visit with them and headed up to cook supper. The rains came Friday night and we were lucky to stay dry. The air mattress, however, gave us a fit and was close to flat Saturday morning. Yuk.

Coffee got brewed early, we loaded Bones the Wondermutt, headed down, gassed up at the Texaco and met everyone at Cecilia s at 0930. Lots of intros were in order along with a bagel and more coffee. The word was Imogene. Krista and I were psyched! Was it the java? Nahhhh.... It must have been close to 1030 before we left town. Just before we got off the asphalt, a stop to air down was in order. It was an impressive line up of Full Size Jeeps!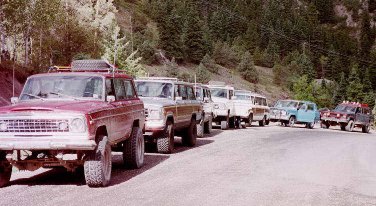 The group turned off the trail that heads up to Yankee Boy and crossed the creek left of the bridge. It was a bit swollen from the rain the night before. We got some stills and motion video of most the rigs making the first splash of the day. This kind of trail was a bit of a challenge for this flatlander. I was used to running boggy sand beaches and little playing in the Blue Ridge, but this stuff is different. The hood of an FSJ can hide what is over the next hump and leave you wondering "does it drop straight off or is it OK?" We had a lot of fun going up and stopped for photo ops a few times.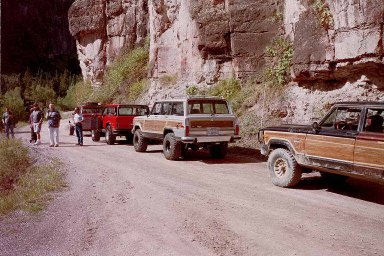 There was another creek to cross and it had more of a challenge with a drop off the rocks to the water. Stewart managed to hang the left rear bumper of his 91 GW on the ledge coming down and couldn't quite get off the rock with open diffs despite the bouncing a couple of us did on the frontend. It only took a light tug to get him off and rolling again. Ethan showed off a bit by taking a different angle than everyone else and dropped off a steeper ledge into the creek. He got lined up right and didn't hang on anything though. Could it be his stealth bumper cam that makes the difference?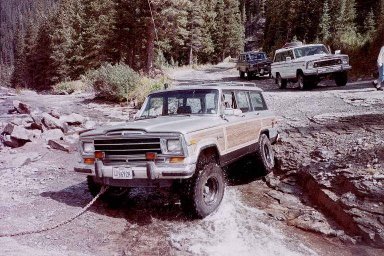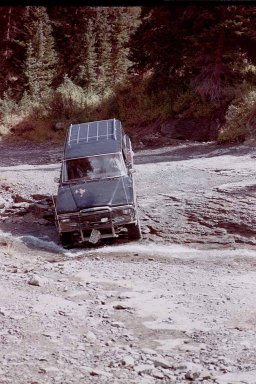 | | |
| --- | --- |
| | Luna did excellent climbing for 31" street tires. The positrac diffs more than made up for the lack of aggressive tires. This rise doesn't look so steep unless your behind the wheel and can't see over the hood! |
Lunch break came at an old mine just above the tree line. The view was awesome.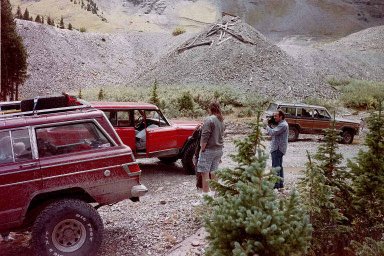 There was a deep rut diagonal across the trail headed up the last leg. Lynn had managed to get his beautiful Big Red to this point in 2WD, but the rut would not yield until he was locked in 4WD.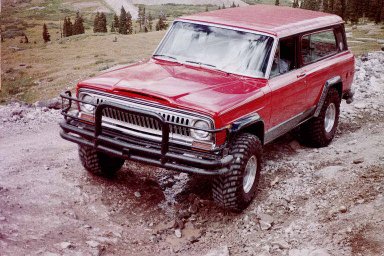 We all got a great view near the top where a couple rigs were beginning to experience some rich mixture on the intakes. At this stop, I walked around all 4 corners checking Luna for any stress and found my self winded and dizzy. Wow, no wonder some of the rigs were having a bit of a breathing problem!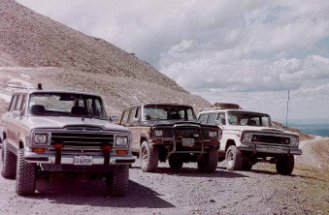 One more short crawl and we were on top Imogene Pass. All I can say here is ~WOW~! All this time Krista had navigated Luna with great precision and I must say I am very proud of her. Yeah, she drives a big Jeep and cooks too! C'mon y'all, I mean that with the utmost respect. =8-)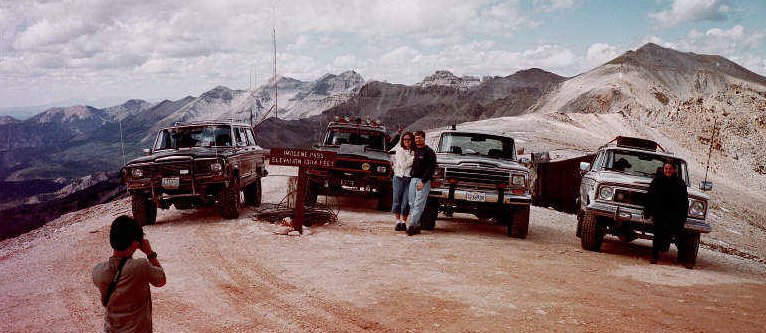 As for Krista's driving precision comment, we had a good laugh the other night on the phone... The main reason she thinks she drove so well was her healthy fear of driving off the trail and bouncing off of trees and rocks down the mountain side! <grin> As a matter of fact, Krista was a little concerned about the amount of space we had at the very top of Imogene and as we drove by the elevation sign, the roll of cable there got snagged on the rear bumper. I think the elevation was starting to make our heads a little light. The group got together at the top and waiting for an opening to start down the backside. There were some pictures taken here that I hope come out well.
That first stretch down the backside looked like a really long haul down to the first switch back. Don't know about y'all, but the first time down that piece must make everyone's eyes big and get a tighter grip on the steering wheel. How about you David? It also seemed like that trail got pretty narrow at times. Whew, that is a long drop down. I believe David was having some trouble with his QT kicking outa low range to neutral and he had to stand on the brakes pretty hard coming down. That would be a challenge because using low-low was pretty handy in keeping the pace nice and slow. The views coming into Telluride are pretty incredible. Words can not explain the beauty really, nor can pictures. There are clear images in my head though! The traffic got kind of thick nearer the bottom and it took a while to get into town. We all stopped at the Texaco station on the outside edge of town to take a break and jaw some. It was getting on in the afternoon by now and there was some talk about what to do next. Stewart had been having some stalling problems coming off Imogene and other folks had a full day. So we split up and Jason & family, Lynn's crew, Ethan and Krista & I decided to take Ophir Pass trail back over to highway 550 before calling it a day.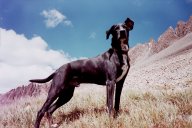 This page approved by Bones!