Bad Luck Prairie 2/10/01
I don't get a lot of time to play in my FSJ lately because I owe, so I work. Most free time is spent with my loved ones. Well, yesterday I got to connect with a club I joined last year but never went to play with them. The Suncoast Flatlanders. (http://www.suncoastflatlanders.com) We met up at a gas station in Everglades City on US41 and SR29. This is pretty much in the middle of no where. The club members that made the event drove mostly "baby Jeeps" of various shapes and sizes. Even a few V8 CJs. Most of them were well equipped for our day of fun. I modestly impress them with Wally, who weighs at least twice as much as the rest of the rigs. ;) The only other full size was a 79 Bronco. A nice one too, with around a 6 or 8" lift. Anyway, I come from a background of driving off road on the sandy beaches and more recently some trails in Ouray, so this is new to me. MUD, Everglades Mud. So, we lined up and went on to Bad Luck Prairie. I should have known something from the name. ;) We wind around some back roads and finally enter the plains. Everyone stops for a club picture and air down. Winter is dry in So FL, so the plains are pretty dusty. We eventually find some mud holes. Wally does pretty good through the first two. I turn around to watch others come through and after a few minutes decide to come back through from the other side.
A little too slow and we get stuck, not too bad (yet). Just start rocking back and forth thinking it won't be too bad. Well, this stuff is very deceiving. The water table is just below the surface and a lot of places few like sponge when you walk on it. Once you break throw the top few inches of sand, it is like fresh wet concrete. So, the left front tire breaks through first and the next thing I know, the front end is sunk up to the fog lights in this stuff. WOW! I can barely see the top of the tires. The Bronco hooks on the the rear for extraction. Nada. One of the more healthy Wranglers hooks on and the Bronco hooks on behind him. Nada. Meanwhile, I am up to my knees in this stuff with a shovel along with a couple other guys. I am beginning to wish I had been more careful. (what, me?) So, a big swamp buggy comes along with a 9000 lb winch and hooks on the back with Bronco in back to anchor him down. We break the cable. By now, Wally has a new name from the club - Lead Sled.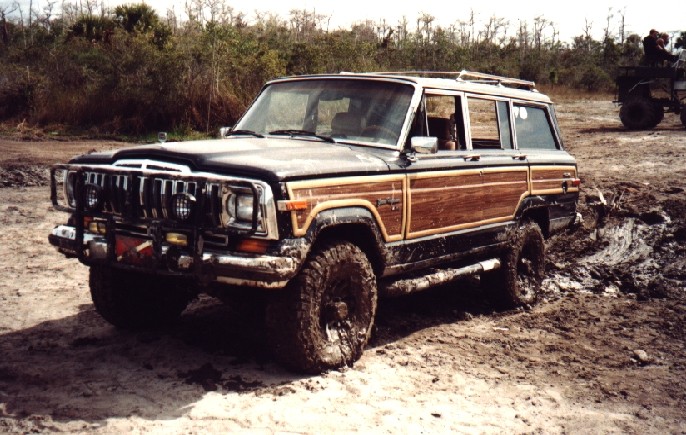 So we decide to take another approach. Just 10 feet to the front is solid ground. The beefy Wrangler has a 9500 lb winch. He pulls up close where the winch is probably 4 feet higher than my front bumper. We dig deep enough to get the cable around the lower rails of the brush guard. It is pretty amazing that the factory brush guard was rigid enough to hold the weight of the front end of an FSJ. We pulled the front end up out of the goo and proceeded out of the hole. I was grateful that there was no damage, except to my ego. =8-) Ever seen those factory Waggy mags packed through and through with mud? hehehe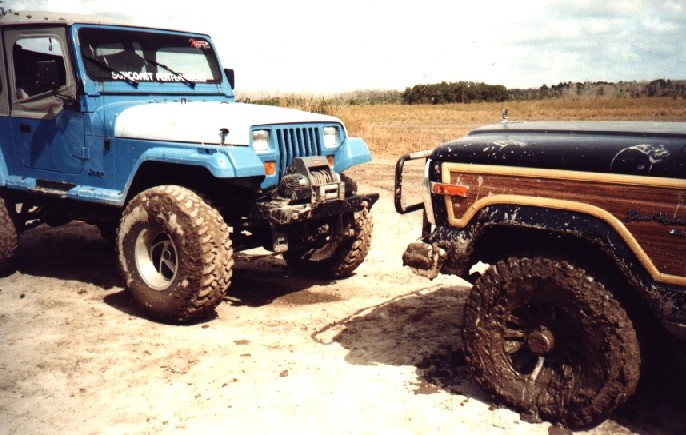 We played around the area most of the day and I needed one other pull. This time I quit before Wally sank through the top layer. I even got to return the favor a few times. Those who braved the worst goo needed a pull eventually. Wally & I decided to play more careful. There was a small lake with hard sand bottom that we could drive through and rinse off mud. We also got to see some serious swamp buggies get stuck in this stuff. It was a fun day to goof off and turn some gears. Nobody in the club broke anything serious. A couple bumpers got messed up from getting pulled or pulling others. The class 5 hitch on Wally was the trick for a towing point. One thing I can say about this kind of playing - Lockers and Swampers!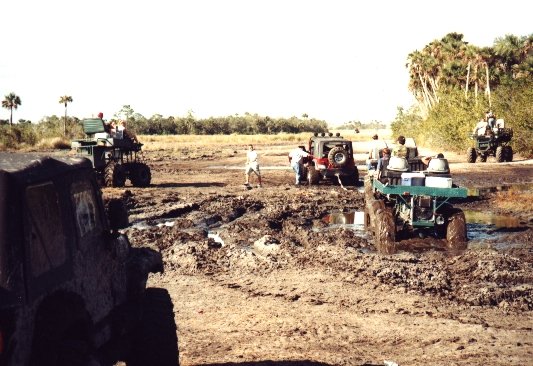 The red Wrangler snapped something big time while trying to yank these two stuck swamp buggies.
Finally, a stronger swamp buggy extracted them.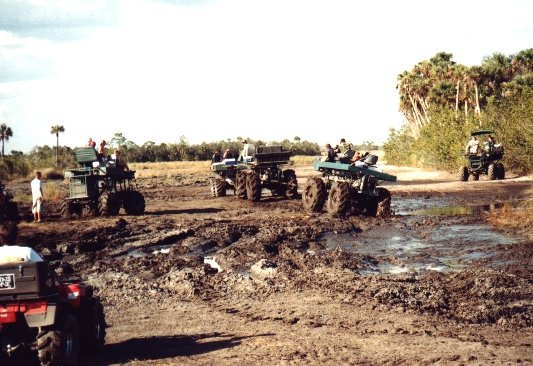 ~Keepin on Jeepin on~